Now that you shopped all the shops, walked all the walks and re-friended all your friends, it is time to go back to the office.
Some few months ago at the beginning of this Corona crisis we published a BLOG POST ABOUT WORKING FROM HOME so it seems fair that we have a closing one now when things are starting to go back to normal (at least here in Croatia) about going back to work.
It's not end of spring break but easing of quarantine
Or as they call it here restriction relaxation, so don't go all wild now. I see people partying and hanging out in parks and bars like there is no tomorrow. Well, if we all take little caution, there will be tomorrow so keep the distance.
You don't need to see all your friends in the first few days, nor do you need to shop for new clothes immediately or check the new furniture (and if you are out there for the meat balls, remember that Ikea released its famous recipe[1]). Now, don't get me wrong, I am not telling you not to shop (please do), I am telling you to use the internet for more than cute cats and Instagram. And if you really really want to see your friends IRL don't do it in the most crowded city park or a bar, instead opt for something more private – maybe somebody's back yard or a smaller hidden park. Now, I know it is hard[2], and I myself am guilty of going to Ikea in the first days of reopening (rethink minimalist lifestyle if you are clumsy), but try to restrict your time in the store, wash and disinfect your hands and so on. Virus is still out there, so we need to find a way to coexist.
Back to the office
Now that you shopped all the shops, walked all the walks and re-friended all your friends, it is time to go back to the office.
As you can see from my previous point, that means that a lot of people potentially with a lot of friends or shopaholic drives got back in a smaller shared area.
The same rules apply here as well – disinfect, keep the distance, air the rooms, don't come in sick, and wear a mask if needed. This is just basics, and you can polish it just as we did in Syntio. We can still work from home, and for those who are really missing their colleagues (or you know, time off from kids, we don't judge), we have limited number of available seats in the office and all they need to do is fill in the schedule when they want to come. We will love you less (and disinfect you more) if you come by public transport, but most people cycle or drive anyway. Since there have been no new cases of Covid infection in Croatia in the last few weeks, we are preparing to get back to normal soon, but have an adjusting period.
I am aware that unfortunately not all companies offer this privilege of choosing if you want to come in or not and are forcing their employees to come back, but still, try to do what is best for you, use stairs instead of elevators (good luck if you are on 16th floor like we are), keep the distance, eat your lunch at your desk or in a park/outside if possible. Take regular breaks and even try to go out for a short walk. Don't be ashamed to wear a mask even if nobody is wearing it. I am here talking about hospital masks, not a complete batman suit.
It's a mad world out there
Although what seems like a majority of people is out having a blast, there are some individuals that seem scared to go back out. Some are scared of virus and some have been self-isolated for so long, that they are scared of other people.
I am not a psychiatrist but a data engineer so I can only assume (or do a SWAG[3]) this is normal considering circumstances. I can only try to offer you some ideas on how to tackle this from what I collected talking to my friends and colleagues.
First is to start small – take a walk in the evening through the usually busier part of town. You want a busier part of town because you want to get adjusted to people. Meet one friend (pick the introverted one, you know he/she didn't go anywhere) or go for an outside chore that offers the least amount of contact – like pedicure maybe or pet grooming if you have a pet, although I hear they have their hands full these days.
If you can, go work from the office before you are officially due to be back, so that you meet some but not all people or try to go there before/after work hours just to "breathe in the place" (nobody is watching, but still wash your hands).
For me personally going out for the first time was a weird experience and I am still adjusting to the office (we are currently coming in 2 groups every other day), but taking things slowly and having things that need to be done among people has helped me adjust. What amazes me is the amount of people that don't take any precautionary (recommended) measures starting from basic one of keeping the distance. So yes, start slow, take time, keep the distance and wash your hands. You can still enjoy your work and your life within this new normal.
Knowledge grows when you share it, so if you have some tried and tested advice, let us know!
References: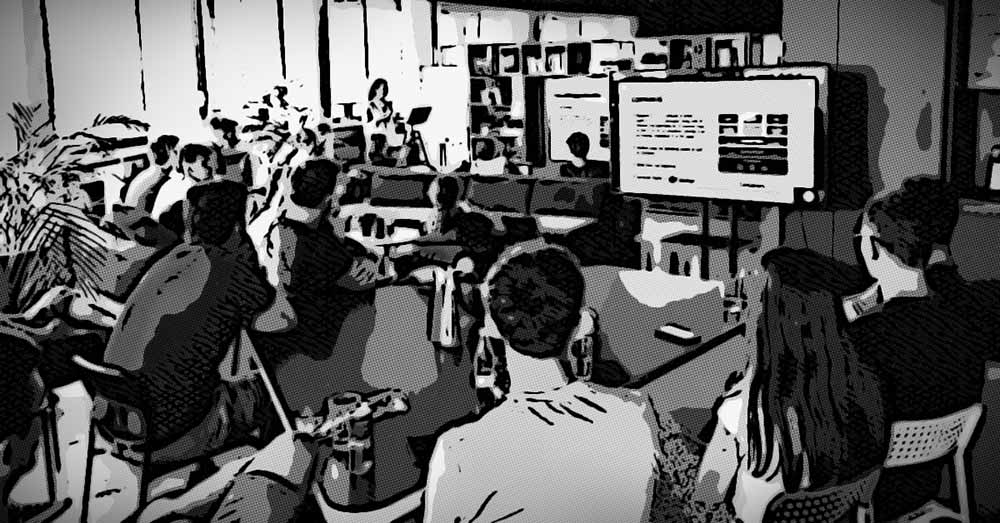 As the start date for the Syntio Summer School crept nearer, excitement started to rise amongst us. We had never faced the onboarding of 24 students at the same time! 
On the 5th of July 2021, a Monday morning, the students started to arrive at our office address. Besides the necessary paperwork and work equipment, we had also prepared fresh croissants, coffee, and orange juice, to really welcome our students into the office. We had an ulterior motive for this, as this would ensure that the students had a chance to get to know each other before the introductory presentation. In "Intro to Summer School" our Mentors made sure to cover the vision of the projects, while our People Operations Lead presented the Syntio values and ways of working. After the Intro presentation and the randomized division of the 6 groups, students started their three-week long project work. Each project contained various tasks, from ingesting data from different sources in various formats, processing data and storing it for analytical purposes in a Data Lake, to creating reports from a data model in relational databases and building dashboards to present their results. Students successfully overcame all the challenges that came when dealing with batch and stream processing, file ingestion, scraping data from web pages and getting data from APIs.
Teams worked in agile setups covering all major ceremonies, followed Gitflow branching strategy for versioning, created Continuous Integration/Continuous deployment pipelines, and set up their Azure infrastructure using Infrastructure as Code principles. To achieve this, they used tools that Azure offers, such as Azure Data Factory, Azure Functions, Databricks, Azure Synapse, Azure Kubernetes Service etc., as well as open-source technologies like Apache Kafka and Terraform. Middleware code was written mostly in Python, Go and Java. Our goal was for students to get hands-on experience in agile way of working using important principles (IaC, code versioning, CI/CD, automated testing). Whilst the serious work was happening, we also decided that some fun was needed as well! So, we held a Summer School Table Tennis Championship over the span of last two weeks, so students could engage in some physical activity and sportsmanship on the side. The Championship was a huge hit, as all interns engaged in the competition, but only first three won previously chosen prizes!
We were able to organize Summer School in offline version, due to large area of our office space, which gave to students the opportunity to ask for advice from the mentors in person, as well as communicate with their team without technology barriers. Also, teams helped the other teams on their own, which made us very proud. Teamwork beyond the team is a value we cherish greatly, as knowledge sharing does not know limits inside Syntio. This way, everyone got the chance to improve their communication skills, empathy, and knowledge transfer skills, as rivalry is not our style.  
On the last day of Summer School, students were asked to present their projects in front of all Syntians. Everyone was quite excited to learn more about projects Summer School interns successfully completed, but also very supportive and helpful with advice about presentation skills.   
After just three weeks, interns showed us the insights they had derived from available data and their overall knowledge of Cloud Data Engineering. Final presentations were more than excellent! Our expectations about their engagement and programming skills and even presentation skills were high. But also exceeded. Students were asked to fill out anonymous feedback forms, and we shared ours with them in person. This way we got a chance to talk with each of the students about their strengths, achievements, and where they might have had some room for improvement. This also gave them the chance to ask questions that might have come up during their internships and work experience. Everyone had the opportunity to stay and work with us on our products with the option of a full-time job later.
The Syntio Summer School was deemed a great success by all the mentors, and especially by the students themselves. We even achieved to surprise ourselves with this well-organized internship program, as well as selection process of candidates that proved their capabilities. 
We came to this conclusion by looking at the overwhelmingly positive feedback that we received, but the most important measure that we saw, was that every single one of the Summer School Students expressed their desire to become a Syntio employee. We can't put into words the feelings of pride and achievement that this program has brought to us, but we are delighted to have created an environment for learning and development, that is paving the way for the next generation of Data Engineers. Surely next year we will try to repeat this excellent result and we will try to raise the whole organization a step higher.