There's only two options when you find yourself in the storm, you can either drown in it ORRR you can surf those waves!
There's only two options when you find yourself in the storm, you can either drown in it ORRR you can surf those waves!
Of course it's not that black and white, but it kind of is when you think about it, isn't it? You either give up or you fight the ways you can. As the whole world is battling the Corona Virus storm, no one can really hide from this situation, however much they want and try to. But instead of drowning, we choose to take the surfboards and do the little things that can help both us and (hopefully) others in fighting the Corona virus.
That is one of the reasons we signed up for this Hackathon.
Our initial motivation was to contribute to the fight. We don't know how to heal people, but we can try to offer help in what we do the best – and that is data engineering based on cloud platforms. Our team was formed by the young hopes: Tea, Martina, Ivan, Darija and Mia. Syntio seniors Martina Kocet, Nikola Sever and Marko Krajnik made it all possible by helping our young innocent team to cross the obstacles. 🙂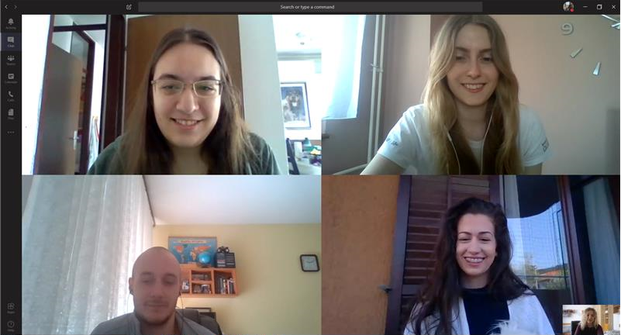 We created a simulation of Corona virus tracking app. We imagined everyone would like to receive a notification if he/she was in contact with an infected person, right? This way we can warn a person on time to isolate herself before spreading the infection further.
Such big data require progressive databases and advanced optimization techniques. We saw a great chance in using Google Cloud Platform's resources like Big Query and Google Cloud Functions.
Maybe we motivate somebody in developing similar idea that could really help the fight. Maybe we provide some ways of solving problems that people were not familiar with. Syntio has its way of dealing with big data optimized, quick, automated and clean, and we wanted to present it!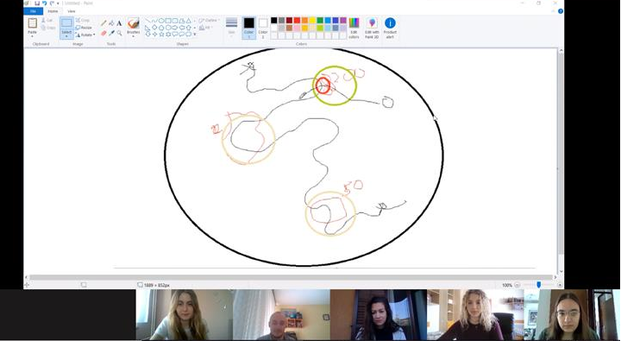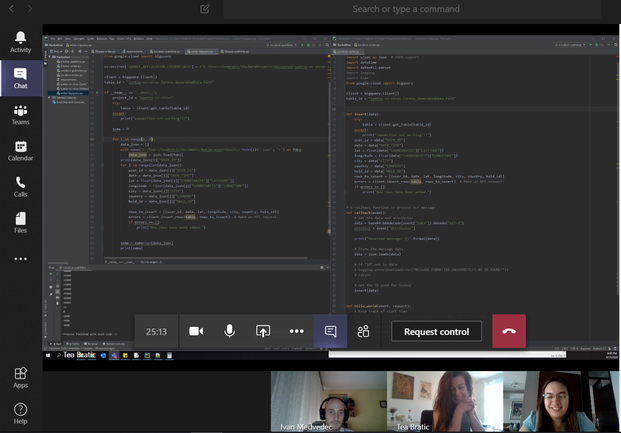 Another goal of participating in this hackathon was to do something fun, creative and hang out together – and that way to spread positivity among ourselves in these not so happy times (we really miss those morning coffees in the office). We could have done this by applying to non-Corona-related hackathon, but as it goes, you want to take a hair of the dog that bit you; i.e. we confront the situation, we don't have to neglect it to stay positive. 🙂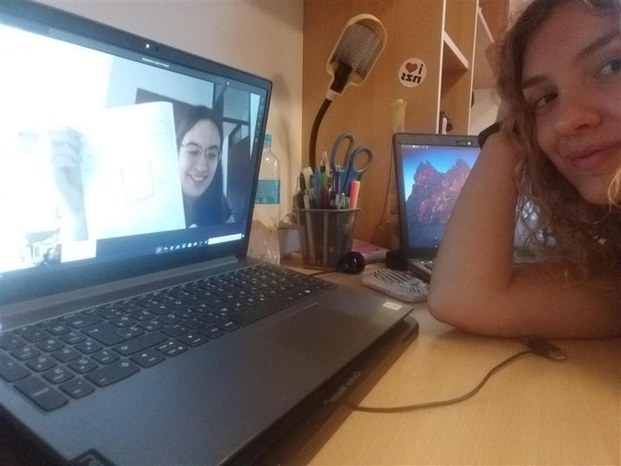 We wanted to improve ourselves this way too, learn some new things, and challenge ourselves in a new big data situation that maybe we wouldn't have found ourselves into if it wasn't for the virus.
We can say that it was 100% worth it! We didn't want to drown in this hackathon, we just wanted to make this experience positive. So yes, we did get enough sleep, and yes, we did eat. We definitely learned something new that made us grow a bit more in the business plan, we successfully challenged ourselves, we hanged out, and we feel more useful in this fight!